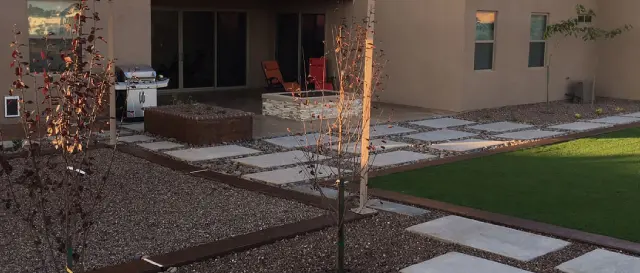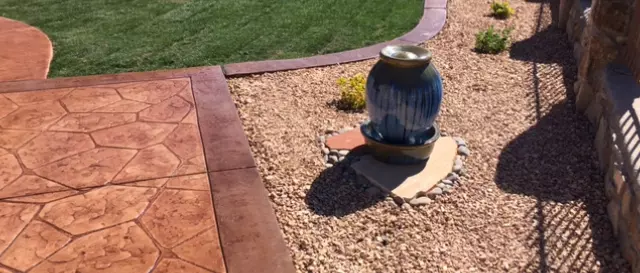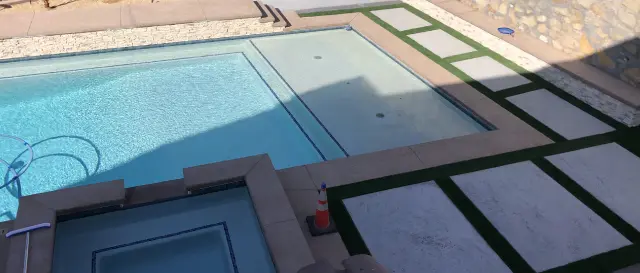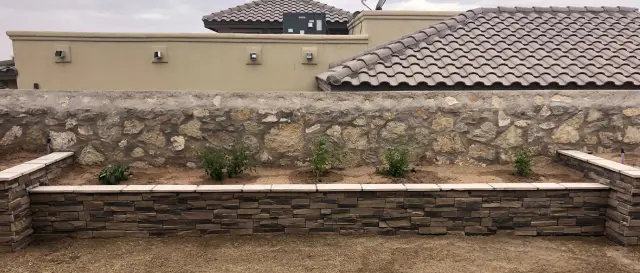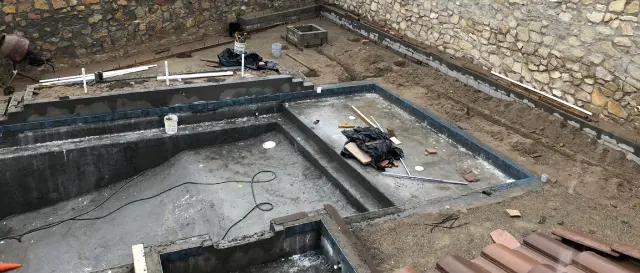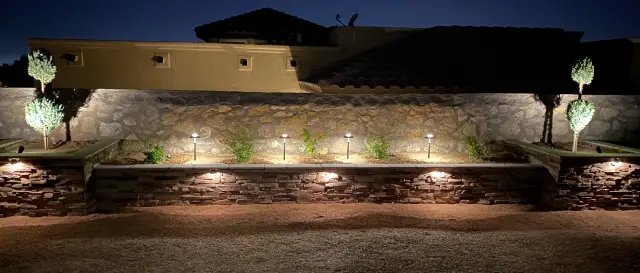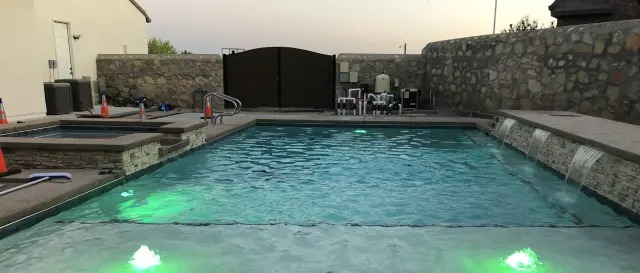 American Concrete Institute ( ACI) Certified.
Texas Licensed Irrigator TX LI 16117
We Accept Most Major Credit Cards
Our professional contractors at Landscape & Concrete Impressions serve El Paso and the surrounding western Texas area with top-notch concrete designs, installations, maintenance, and more. We cater to both residential and commercial needs. Explore the range of exceptional services we offer:
Our builders will visit your property, carrying hundreds of photos to present ideas of a custom design tailored to your individual needs. Proper design and planning are crucial to estimate a budget and knowing that your hard-earned money is used wisely. Let our experience lead you to that ideal outdoor living space that's been your dream so far or indoor polishing for concrete partitions and countertops for baths and kitchens.
Let us take care of the design and installation of polished concrete in multiple colors and aggregates to match your space. We can cast in place or mold off-site the polished concrete countertops perfect for indoor and outdoor applications. See an example by "clicking" the Polished Concrete" tab. Using our techniques, you get countertops that are customized, durable, and one-of-a-kind. Personal flat items can also be added into the mold of a polished concrete countertop, opening doors for endless creativity.
Concrete Acid Stains and Coatings
Explore our various colors and products range for concrete acid stain. Our professionals will inspect if your existing floor is fit for an acid stain. New floors may come in, saw cut with a design, allowed to cure, then stained. Enjoy multiple possibilities for design and creativity. We offer epoxy coatings for indoor floors. Rely on us with concrete flatwork for sidewalks, paths, driveways, and slabs.
Our experts are reputed for concrete curb and gutter services catering to commercial & residential customers. Elongate a driveway with a new approach or entrance added. With a permit from the City of El Paso before beginning any curb and gutter work, we keep hassles away.
Choose from several color choices, integral and color hardeners, color release agents, and concrete stamp patterns, including brick patterns, solid slate stamps, flagstone stamps, random rock, octagon tile, rough ashlar slate, European cobblestone fan, London cobblestone, and many more. Live updated with a customized look and design.
Stamped Concrete Overlays
If your home needs a thin micro-topping or a 1" inch overlay, we ensure a durable product reinforced by fiber for a look that will last for years to come. 
When installing sod, the ground must be graded properly to avoid drainage blocks, ensure heavy rainwater flows out of your property or into designated french drain areas. A secured hygenic framework with a proper drainage system enhances your lifestyle. 
Sprinkler Design and Installation 
We rely on Texas Licensed Irrigator #16117 for all new sprinkler and drip system permits within the El Paso City Limits. We maintain a schematic of the new system, with a legend, a backflow test, and a 30-day warranty. Get covered on pipes that leak after installation, sprinkler head adjustment, or coverage issues. Our warranty does not cover freeze damage, damage done by pets, or neglect.
For flagstone installations, we are adept at patios, walkways, wall caps, and much more.
Please visit our photo galleries to see our past work of building grills, fire pits, fireplaces, and walls out of cinderblock.
We personalize and build fire pits and fireplaces for our domestic and commercial customers and take care from design to installation.
Let us prepare an estimate using multiple samples of artificial turf, some more expensive than others. Considering the crowd and business of the area, whether it has high traffic or is a front lawn minimum traffic, we curate insights about the type of turf to be installed in your home.
Our knowledgeable staff can scale a drawing about the placement of trees and shrubs for your design. We suggest vegetation ideas as per the particular climate. We can also accompany you to a nursery to choose trees and shrubs and recommend chemicals for proper growth.
Fountains and Custom Water Features
Enhance your space with a stunning, custom design for a fountain or other water features out of various types of materials and stone.
Our masonry uses many types of stone for your to choose for your masonry design. We can personalize those concrete walls, walls made of Franklin building stone, stamped concrete, cobblestone, cultured stone, Hueco building stone, or dry stack. We also offer a variety of caps for our walls and decorative masonry work. Pick your favorite from Flagstone, brick, pavers, cast-in-place concrete tops with integral color, bull-nose brick, & manufactured cultured stone caps. Let us install cultured stone around your home or business.
Pergolas help you stay cool and shaded in the hot desert summers. We can help you design the pergola, preparing drawings for any permits required for the new structures. We also can build a canopy.
Looking for a small decorative retaining wall to add beauty to your home? It would not require a permit or a large retaining wall that needs a structural drawing and a permit. We can construct both types.
Vertical Concrete Stamping 
It brings a beautiful look to cinder block or concrete structures, available to be dyed in various colors and stamped. Many customers like their walls or masonry work matching their new stamped concrete floors, keeping a nice consistent look throughout.
Cultured stone is a manufactured stone veneer created using portland cement. It comes in different colors and styles in boxes of 10'ft or 90'ft approximately. Inside or outside the home, it can be used in many different applications.
Commercial Landscape Maintenance 
Let us help you keep your business looking clean and well kept. We can diagnose your irrigation system, make repairs if necessary, prune trees, shrubs, pick up trash and debris from parking areas, and offer pressure washer services.
Awnings ensure a lot of exposure to the sun, nice and shaded. We help you sell these awnings, some of which contain a small motor, which allows you to open and close the awning with the click of a button located on the remote control.​